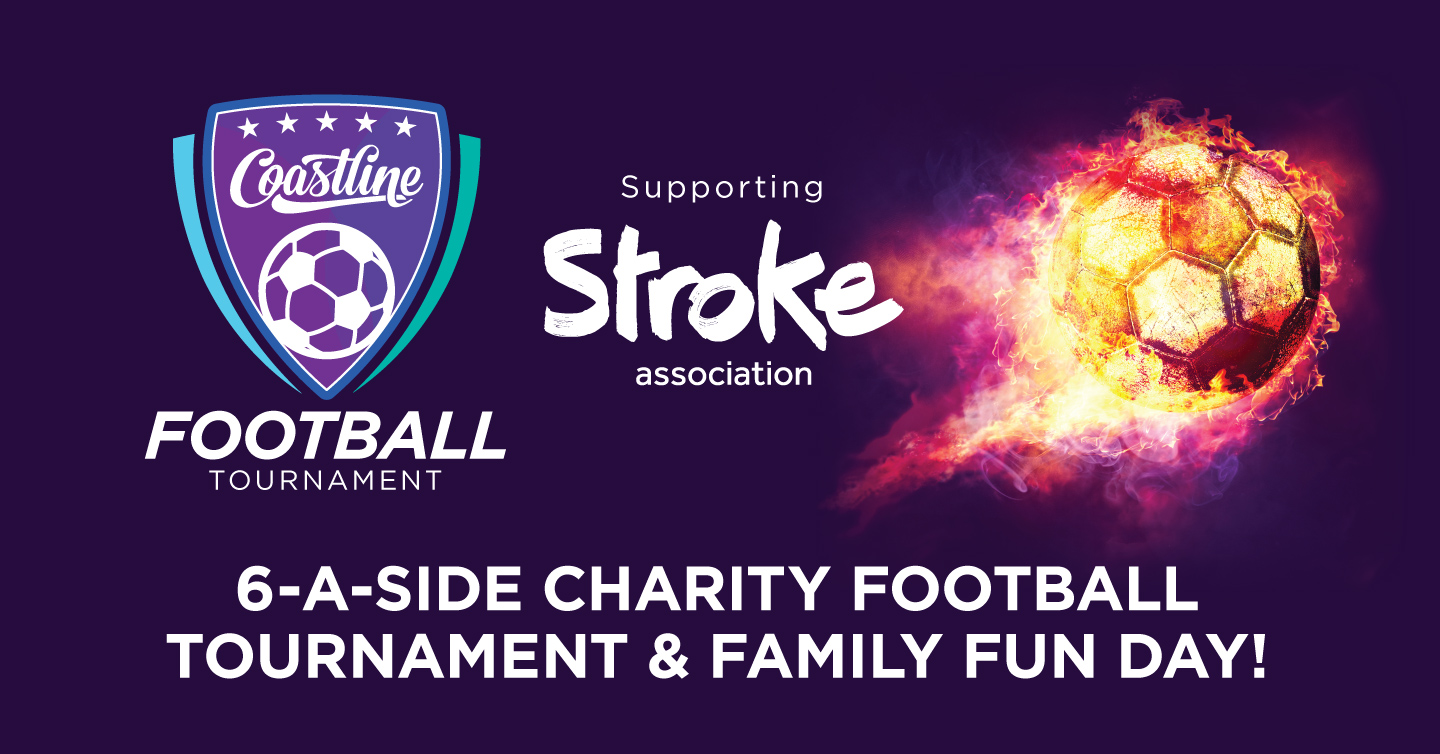 Matches kicking off at 10:15am

After the success of the 2016 tournament, Coastline Graphics have organised the second Coastline football tournament and Charity fun day! It will take place at the newly built Skyliner Sports Centre, on the all-weather pitches on Sunday 28th May 2017, starting at 9.45am. Our aim is simply to have a good time, play a few games of football whilst raising money and awareness for The Stroke Association – ideally in the sunshine! Sound interesting? Here are the essentials…
Why?
Some good fun that is all in aid of a fantastic charity — The Stroke Association. All profits made will go to the Stroke Association.
What, where and when?
A 12 team 6-a-side Football tournament, held at Skyliner Sports Centre, Bury St Edmunds (IP32 7QB / IP32 7YB) on Sunday 28th May 2017, starting at 09:45am with matches kicking off at 10:15am.
For who?
Everyone is welcome, companies, organisations and teams of friends from near or far.
How many players per team / How much does it cost?
The cost per player is £10, with a minimum of 6 players per team. You can also have up to 6 subs (highly recommended!), with roll on and off subs throughout the matches. The fee covers entry as well as a personalised t-shirt each with your team name/company logo.
How do I get involved?
Enter your team details below, make payment, and receive a confirmation email. Extra players can be added after the initial registration, this payment can be paid by PayPal donation (below) or by bank transfer/over the phone.
If you would like to get involved on the day or discuss advertising opportunities then please email james@coastlinegraphics.co.uk
So show your support, sign up and get involved. We are not looking for pure professionals here, we welcome the underdogs!
Can I donate if I'm not playing?
Of course! Thanks for your support, you can donate via our JustGiving page below.
REGISTRATION IS NOW CLOSED! 
2016's Charity Day




£1,030 Raised!



On Saturday 28th May 2016, Coastline organised a 5-a-side football tournament in aim to raise money and awareness for The Stroke Association.
The tournament took place at Bury St Edmunds Rugby Club on the all-weather pitches where we welcomed family, friends, companies and organisations to come along and enjoy the day in aid of a fantastic charity. Overall, eight teams signed up to the tournament including Gaia, Bluechip Warranty, Knights Lowe, Manchetts, Stormafit and of course our very own Coastline teams! 
About the Stroke Association
The Stroke Association is the UK's leading stroke charity changing the world for people affected by stroke.
More people than ever are benefitting from cutting-edge treatments and making full recoveries. More people now understand the need to seek emergency treatment for stroke.
What is Make May Purple for stroke?
Make May Purple for stroke is our annual stroke awareness month, taking place every May. Friends, families and communities are invited to show their support for people who have been affected by stroke. This May, join thousands of people up and down the country and however you choose to celebrate Make May Purple, you'll be helping us to conquer stroke.